For the past 25 years TMS, Tailor-made Studios International BV, have been actively involved in over 40 countries and still have a leading role in the development and production of high-end paper consumer products. TMS shows a constant annual growth and offers real opportunities for talented individuals.
Are you our new colleague?
We are looking for an enthusiastic and experienced: Export Manager (fulltime) with plenty opportunities for continued growth
Your desk is ready and waiting in our active and welcoming sales department. Still, it would be empty on a regular basis as you will be on one of your regular trips around the world to visit our existing partners and to create new life long business relationships along the way.
You will be working in close cooperation with our Commercial Director making export plans and creating new markets. Your objective is a win-win situation, for both the customer and for TMS. You are not looking for short term hits but focusing on long-term partnerships.
You are the connection between the customer and TMS. You are TMS! You are hands-on. We will not throw you in at the deep end on the first day, but you will soon be able to work independently having uncovered all of TMS' secrets. We expect you to be highly motivated, responsive and have a high degree of commitment, which in turn, you can expect from your colleagues. Together we will deliver on what you promise.
From a practical point of view, it may come in handy if you have knowledge of more than one foreign language, however, English, orally and in writing is a must. Your commercial and entrepreneurial skills have to be excellent, and it is essential that you be ready and able to accurately liaise between our customers and TMS.
If you, just like us, think of the solutions rather than the problems, then you are our new colleague!
We can't wait to hear from you!
The TMS-team
Please respond by e-mail (eise@tms-international.nl) to the attention of Eise Harkema.
Feel free to call for any further information at t + 31 180 633 400 and ask for Eise Harkema.
TMS International in Magazines!
Kantoorvak
We proudly present a wonderful article about our 25th anniversary in the "Kantoorvak", which is spread throughout the Benelux.
Everything about our company, from the early days when Ron Schumann started the company untill today and, more important, the plans we have for the future starting in 2019.
Have fun reading this article but please keep in mind that everything is written in Dutch!
Progressive Greetings Magazine
For our international customers, a wonderful article in the Progressive Greetings Magazine which has been created by Mrs. Jakki Brown. The title of this article suits us very well as we travel all over the world to visit our international customers and for that reason we are truly
"The Flying Dutchmen".
In this article you can find the start of an amazing adventure called "TMS International B.V.". The highlights of the career of Ron Schumann who has been in this industry for over 40 years. Besides that, the 1.000 new designs we have created this year for our 25th Anniversary and our beautiful new brand called "The House of Stationery".  Finally you can read a Q&A with Vincent Schumann.
Are you equally as excited as we are, please click on the links and read the full articles. 
25th anniversary of TMS International b.v.
We had a BIG party in Barcelona with the entire team.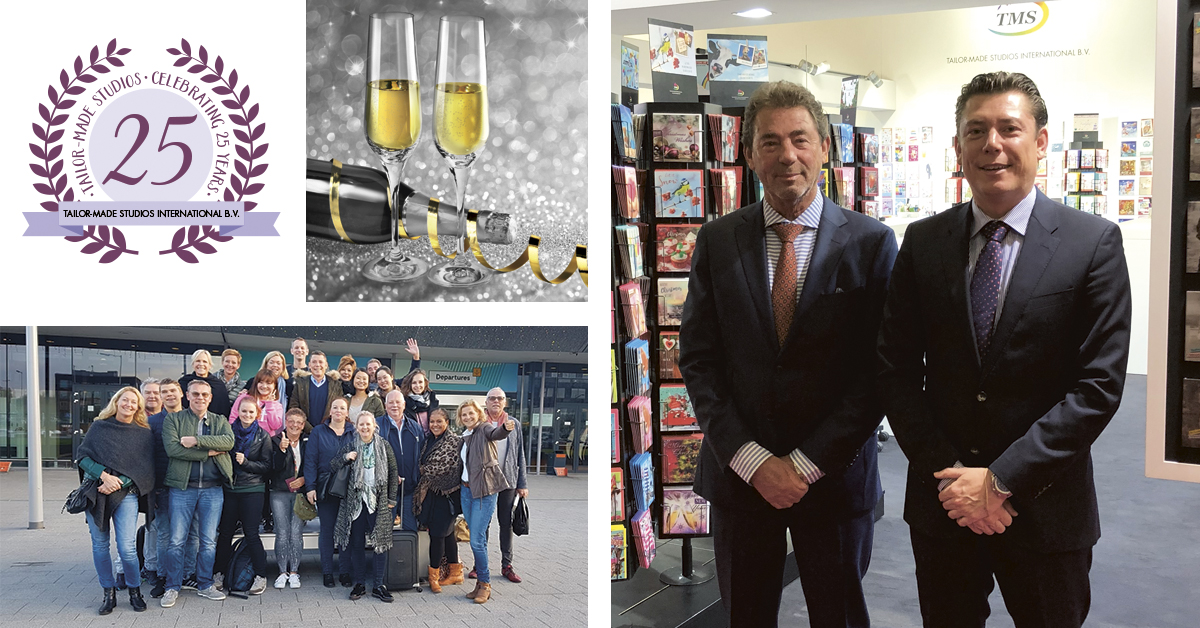 Our Digital Bookshelf
We proudly present our brochures which you can find on our digital bookshelf. Here you will find our new brochures of our new collections. 
Please enjoy browsing through our brochures and don't hesitate to get in touch if you have any questions or would like to place an order.