Ben jij onze nieuwe collega?
TMS Tailor-made Studios International BV, ruim 25 jaar actief in meer dan 40 landen wereldwijd en leidend in vooruitstrevende hoogwaardige papierproducten, maakt al jaren een constante groei door en biedt volop ontplooiingsmogelijkheden voor talenten.
Ben jij onze nieuwe collega?
Wij zijn op zoek naar een enthousiaste en ervaren:
DTP-er voor onze studio (fulltime / 40 uur)
Voor meer informatie klik dan hier.
TMS International in Magazines!
Kantoorvak
We proudly present a wonderful article about our 25th anniversary in the "Kantoorvak", which is spread throughout the Benelux.
Everything about our company, from the early days when Ron Schumann started the company untill today and, more important, the plans we have for the future starting in 2019.
Have fun reading this article but please keep in mind that everything is written in Dutch!
Progressive Greetings Magazine
For our international customers, a wonderful article in the Progressive Greetings Magazine which has been created by Mrs. Jakki Brown. The title of this article suits us very well as we travel all over the world to visit our international customers and for that reason we are truly
"The Flying Dutchmen".
In this article you can find the start of an amazing adventure called "TMS International B.V.". The highlights of the career of Ron Schumann who has been in this industry for over 40 years. Besides that, the 1.000 new designs we have created this year for our 25th Anniversary and our beautiful new brand called "The House of Stationery".  Finally you can read a Q&A with Vincent Schumann.
Are you equally as excited as we are, please click on the links and read the full articles. 
25th anniversary of TMS International b.v.
We had a BIG party in Barcelona with the entire team.
During the upcoming shows in Frankfurt, Paperworld and on the Springfair in Birmingham we will party on with our customers. Make sure you will be a part of our celebration too!
More news coming soon!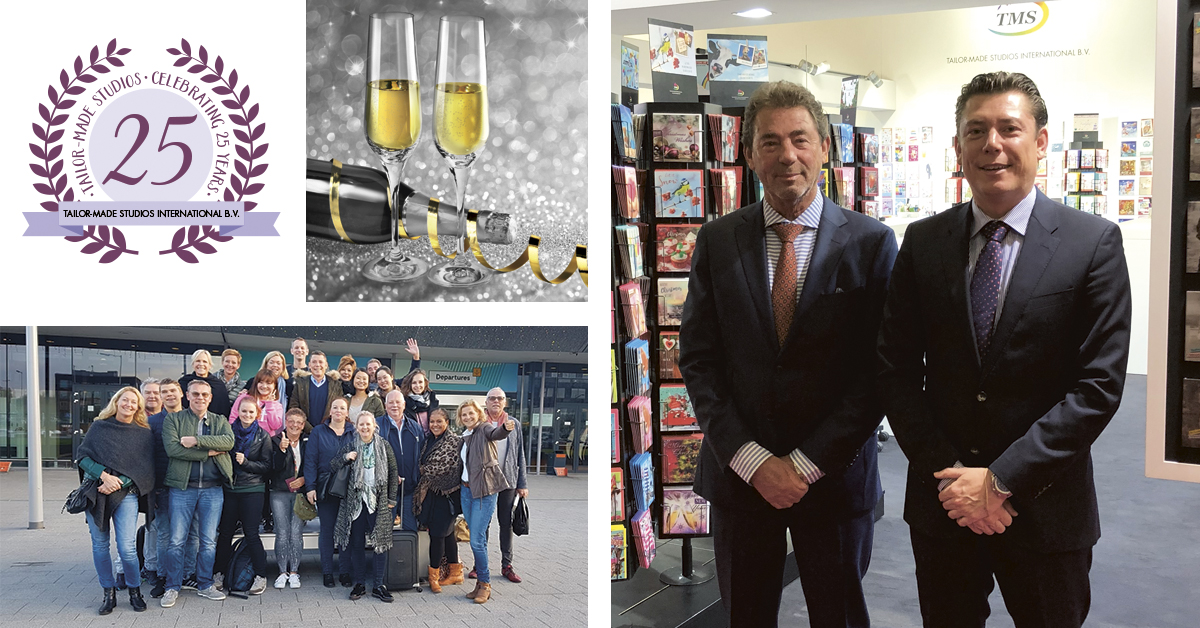 Our Digital Bookshelf
We proudly present our brochures which you can find on our digital bookshelf. Here you will find our new brochures of our new collections. 
Please enjoy browsing through our brochures and don't hesitate to get in touch if you have any questions or would like to place an order.